Responsive Design
Responsive web design puts your business one step ahead of your competitors.
Almost half of website traffic is now delivered to mobile devices like phones and tablets.
Mobile-friendliness is now essential for website ranking. The ability to respond to a mobile device is now a key factor for ranking in organic search results on major search engines like Google.
We can create a new fully responsive website or convert your existing website to look great on the full range of platforms.
By making use of fluid layout and designing your website to respond to the size of the screen it is viewed on, it will be easy to read on any viewport whether it's a large desktop monitor, tablet or mobile telephone.
Creating a mobile-friendly website is no longer an option, it's a necessity.
Stay ahead of the competition , contact us now!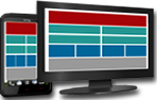 Responsive Design
Readable on any size screen
Essential for search engine position
Mobile & tablet friendly
Fluid design
New website or Conversion
Fully supported
Fast, friendly service