Web Design & Development Services
We offer comprehensive planning and web design services for an effective web presence.
Our wide ranging expertise, qualifications and experience in marketing, design and programming ensures you get a complete working package. Following an initial free consultation, we make recommendations and provide a fixed quotation for a web strategy aimed simply at increasing your business.
Management and Database Modules
All sites are database driven and supports by our own Content Management System from a Secure Administration area. We offer a same-day update service or content can be self-managed using our easy-to-use custom admin tools. You won't need an IT Masters degree to edit and add pages to your site.
Included in the package are custom modules for dynamic content like News Blogs, Events Calendars, Downloads, Company Biogs, Contact Forms, Slideshows and many more.
Hosting & Maintenance
Our websites are hosted on a private web server located in a data-centre and are covered by our unique fully supported web hosting service. Hosting packages include updating, site maintenance, domain fees and telephone support. This service includes content and template re-design to keep up with advances in technology, enabling businesses to fix their annual web services budget.
Contact us now and join our growing list of satisfied clients.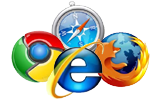 All Inclusive Package
Eye-catching design
Responsive
Relevant functionality
CMS admin panel
Choice of modules
POP3 & IMAP email
Privately hosted
Fully supported
Fast, friendly service